Cara Uroša 26/5, 11000 Belgrade, Serbia
See relevant channels of communications
Tel.: + 381 11 26 26 514
Fax: + 381 11 26 26 514
E-mail: nikola.tomasevic@sutti.com

Meeting facilities: up to 16 persons.
***
**Contact:** Dr. Nikola Tomasevic
Studio Legale Sutti's office in Serbia and Montenegro originated from the commercial practice of both the oldest and largest partnership for the practice of law in the former Yugoslavian Federation, which was in turn established by the most famous Yugoslavian counsel of his generation.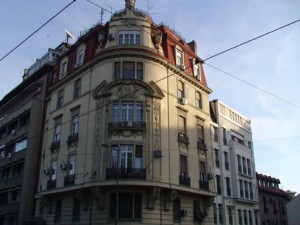 This leadership was maintained throughout the embargo period and during the war, when it remained one of the very few firms to maintain an international focus, offering a full range of legal services pertaining to the jurisdictions of Serbia and Montenegro to local businesses and to foreign companies, including in contentious matters, in trade matters, and with respect to privatisation deals and procedures (a summary in Serbo-Croat on the activity of Studio Legale Sutti in general, and of our Belgrade office in particular, is available for our local clients and for those amongst our readers who are more comfortable with this language).
Our original Serbian partners' first contacts with the rest of SLS started as early as 2001, quickly making Studio Legale Sutti the only Serbian law firm represented in Italy, the UK and Japan, the formal announcement of the merger being delayed for some months due to its imminent relocation to the current, new premises. In turn, the establishment of Studio Legale Sutti's Belgrade office, which followed closely that of our Sofia office, was a big step towards our ultimate goal of becoming the undisputed legal market leaders in South-Eastern Europe, which was achieved in 2003, with the establishment of a further office in Bucharest.
In this respect, in Serbia-Montenegro SLS is one of the very few firms recommended for "Corporate and Commercial" work by European Legal 500 2002, 2003 and 2004 (as was the then head of our Belgrade office in the Yugoslavian section of European Legal Experts) , and the only local international firm indicated in the section "Which Lawyer Serbia" by Global Counsel 3000, 2002 edition. Similarly, Studio Legale Sutti is recommended by the Italian financial press, e.g., Il Sole 24Ore 08/02/2002 ("Il giurista gioca d'anticipo sull'allargamento a Est"), for Italo-Serbian trade matters.
This international vocation was also recognised by the appointment of Studio Legale Sutti as the responsible for the Serbian sections of International Recognition and Enforcement of Money Judgments and of International Attachments of Assets, two collective works published and periodically updated by Juris Publishing, Inc., the leading publisher in the field of comprehensive international legal guides.
More in particular, our office in Belgrade has a strong focus on commercial agreements, in particular those related to leasing, franchising, and international trade. In addition, we are currently engaged in three privatisations of large chemical industry plants, as well as of textile plants. It is equally worth mentioning the firm's assistance in the exercise of the rights of creditors in the liquidation of the four biggest banks in Yugoslavia, as well as consultation services routinely offered to large Italian banks on the territory of Yugoslavia.
A number of French creators and designers, of watches in particular, have also recently profited from our Belgrade office's services with respect to their intellectual property rights and distribution in Eastern Europe, as have some large American groups (see Legal Week Global, "Sutti Belgrade Bags AOL as a New Client"). Speaking of IP, the links of our Belgrade office with our Italian resources makes an Italian Counterforce Desk also available on site.
A recent important step has been the relocation of our offices in the current, new premises, and the recent welcome to a significant number of new partners and associates.
***
On the 27th of June 2002 a cocktail party was given to celebrate both the merger and the opening of the new office, which was attended by several Yugoslavian, Italian and other European businessmen, consultants, and organisations, including the Italian Embassy, the Yugoslavian Office of the Italian Istituto per il Commercio Estero, IVECO, Intesa-BCI, Citadel, Technicom, and others. The ceremony was broadcast the next day by the first channel of RTS, the local State-owned TV network, where Mira Adanja-Polak interviewed Stefano Sutti and a former local partner. In Italy, the event has been reported by, amongst others, Il Mondo, 12/07/2002 ("Dubravka Kosic for Sutti in Serbia and Montenegro"), Yahoo News Italia ("Sutti.com, New Offices in Strategic Countries of South-East Europe"), Studio Celentano("A New Office for SLS"), Italia Oggi 18/07/2002 ("Italian Law Firm Expanding Abroad"), Britaly 01/08/2002 ("Studio Legale Sutti's New Office for Yugoslavia"), The International Law Office Newsletter 01/08/2002 ("July's Mergers, Alliances and New Offices"), Legal Week 05/09/2002 ("Sutti celebrates Belgrade launch with CNN defence").
The international financial and legal press did not wait for the announcement to give ample coverage to SLS plans with respect the Yugoslavian region and South-Eastern Europe in general, as well as to the newly established relationship with our Serbian partners. See in this respect Il Mondo, 14/01/2000; The Lawyer, 17/04/2000, ("SLS Expands into Eastern Europe"); The International Financial Law Review, 05/2000; Global Counsel 01/07/2001; Lawyer International, September 2001 ("Sutti Marches Into Eastern Europe"), Legal Week 13/09/2001 ("Sutti in Merger Talks"), PLC LawDepartment and in October 2001 Legal Business, European Legal Business and the French Avocat News ("Studio Legale Sutti pose ses jalons dans les pays de l'Est"). See also Il Mondo 01/06/2000, The Lawyer, 20/08/2001 and European Legal Business, 05/2002 "Serbia, a Brave New World").